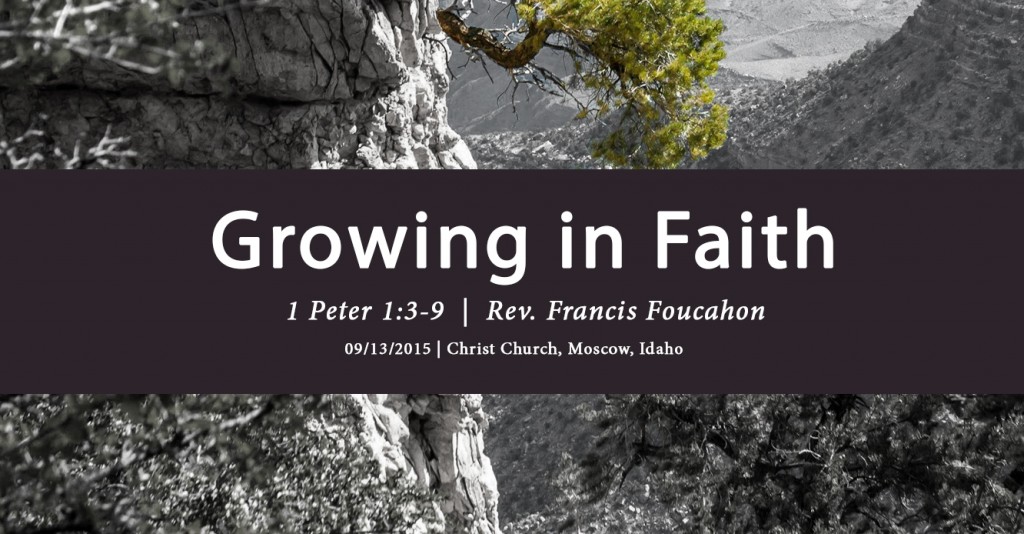 Text: 1 Peter 1:3-9
Listen to the sermon here:
Download HERE.
True faith is living faith. It is many-faceted.
FIRST FAITH LESSON FROM THE GOSPEL:
Matthew 8:5-10 – Great faith understands that Jesus' power and authority are much greater than anything else under the sun. Great faith understands the relation of cause and effect between Jesus's power and His authority.
SECOND FAITH LESSON FROM THE GOSPEL:
Matthew 15:21-28 – Great faith is bold in claiming God's promises with great humility.
THIRD FAITH LESSON FROM THE GOSPEL:
Mark 4:35-41 – Weak faith is characterized by doubting God's love, God's wisdom, God's omniscience, and God's omnipotence. Jesus rebukes the disciples for having weak faith. It is not "ok" to not trust Him because of a really big storm in our life.
Weak faith focuses on circumstances instead of focusing on Jesus.
The relationship between God's absolute power/authority, His promises — and our prayer of faith. Hebrew 11:1
Christ Church – Moscow, Idaho, USA.
Sermon #1877- A.D. September 13. 2015, 1st Service
Francis has a trio of passions—his faith, his family, and his food. He was trained to become a chef in the elite world of gastronomy in Lyon, France before being trained as a minister of the Gospel at the Reformed Seminary in Aix-en-Provence. He worked as a chef in France and Switzerland, and later created his own high-end restaurant in the USA. He was ordained in the Presbyterian Church in America in 1987, and ministered as a church planter in France and in Quebec for 24 years. Francis now works with Huguenot Heritage in partnership with Third Millennium Ministries. He and his wife Donna have five children and seventeen grandchildren.